Greenlight Guru Presents: 5 Tips for Designing a Medical Device Study Under US FDA Requirements Webinar
Medical device clinical studies often present unique challenges for companies, and starting off on the wrong foot can send device manufacturers down a path of high costs and low quality results.
Following best practices when designing a clinical study will not only set manufacturers up for a successful study with fewer constraints and lower costs, it will also ensure sufficient, high-quality GCP compliant data that eases FDA submissions and boosts market success.
But how do you get started on the right foot, and what are some of the key considerations before moving forward with your clinical study design?
Register for this free webinar presented by clinical data expert and co-founder of SMART-TRIAL by Greenlight Guru, Páll Jóhannesson, and senior director of clinical operations at Proxima CRO, Stephanie Mull, who will provide you with key insights on medical device study design and planning that you can implement right away.
To Register: 5 Tips for Designing a Medical Device Study under US FDA Requirements (greenlight.guru)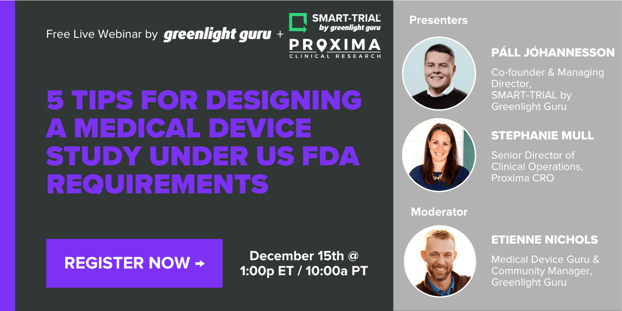 Specifically, this webinar will cover:
Overcome common pitfalls of clinical study planning and design
Optimize clinical study resources and reduce costs
Site selection and safety management considerations
Produce higher quality clinical evidence with less constraints
How to work with a Contract Research Organization (CRO)
Who should attend?
Clinical employees of small to medium sized MedTech companies