Greenlight Guru Presents: How to Use Clinical Data for Medical Device Submissions in both EU & US
How to Use Clinical Data for Medical Device Submissions in both EU & US
Generation of clinical evidence for medical devices is highly impacted by local regulations.
Device manufacturers must be on top of regulations in all relevant markets before generating clinical data.
An important point that many realize too late, is that clinical data collected in medical device studies in Europe cannot be used for FDA submissions and vice versa - unless certain requirements are fulfilled.
Having this in mind when generating clinical evidence can help manufacturers to avoid launching additional clinical investigations for new markets.
In this free webinar medical device experts from Avania and SMART-TRIAL by Greenlight Guru will share advice and insights on how you optimize your clinical strategy for multiple markets and answer common questions, such as:
What type of parallel clinical evidence strategies could you consider when drafting a clinical development plan for multiple markets?

What are some of the local requirements for clinical investigations?

How can you optimize the study design to be useful for multiple clinical submissions
Register for the webinar: How to Use Clinical Data for Medical Device Submissions in both EU & US (greenlight.guru)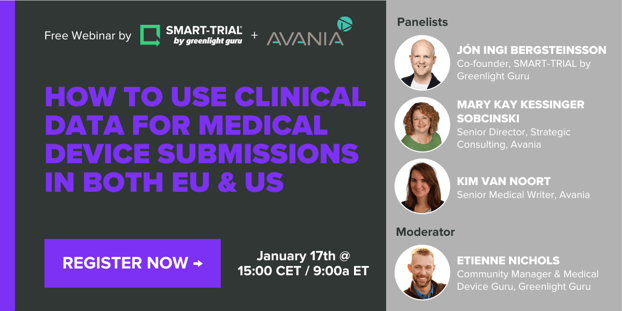 Specifically, this webinar will cover:
How it is sometimes valuable to investigate a pre-market study design in one regulatory region, versus a post-market study design in another, combining data into one set of clinical evidence for your product.
Set-up of a clinical development plan for multiple regulatory regions when your product may be at different marketing phases at one moment in time.
Difference in good clinical practice requirements. What to be aware of before launching a study in the US, if you are to use data in the EU too.
How does study sample and design impact your future use of clinical data from a study, for market access?
Who should attend?
Small to medium sized medical device manufacturers with go-to-market aspirations for both US and EU