Greenlight Guru Presents: Busting Myth Conceptions about FDA's Refuse-to-Accept Policy for Cybersecurity
Busting Mythconceptions about FDA's Refuse-to-Accept Policy for Cybersecurity
In the dynamic landscape of medical device development, staying informed about regulatory changes is crucial.
The FDA's 2022 draft premarket cybersecurity guidance and the updated Refuse to Accept (RTA) policy have introduced new considerations for medical device submissions. However, these changes have also given rise to various misconceptions and myths surrounding the FDA's cybersecurity requirements.
If you're submitting a 510(k), IDE, or de novo device submission to the FDA before, on, or after October 1, 2023, then this webinar is for you.
Reasonable assurance for medical device security is no longer optional, and neither is buying into the mythconceptions swirling around our industry.
Join Velentium's Director of Product Security, Garrett Schumacher, for an engaging and informative session on complying with modern FDA cybersecurity regulations.
By the end of the webinar, participants will be equipped with valuable knowledge and actionable insights to confidently navigate the complexities of FDA cybersecurity requirements and enhance their medical device submission strategies.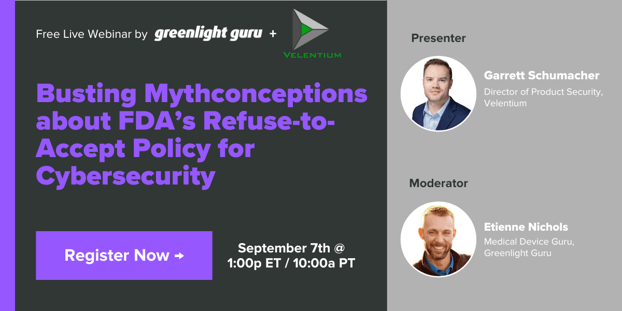 Specifically, this webinar will provide:
Clear Understanding of FDA Cybersecurity Guidance:

Participants will gain a comprehensive grasp of the FDA's 2022 draft premarket cybersecurity guidance, including its implications for medical device submissions. This knowledge will enable them to navigate the regulatory landscape with confidence.

Myth-Busting and Accurate Information:

Attendees will have the opportunity to debunk prevalent myths and misconceptions surrounding FDA cybersecurity requirements. By separating fact from fiction, they can make informed decisions and avoid pitfalls that could hinder their submission process.

Effective Compliance Strategies:

Learn practical and actionable strategies to ensure reasonable assurance for medical device security in alignment with modern FDA regulations. These strategies will empower participants to proactively address cybersecurity challenges and meet regulatory expectations.

RTA Policy Navigation:

Understand the updated Refuse to Accept (RTA) policy and gain insights into how to navigate the submission process seamlessly. Discover key steps to enhance submission readiness and increase the likelihood of a successful review.

Engaging Q&A Interaction:

Engage in a dynamic Q&A session with our expert speaker, Garrett Schumacher. Participants can seek personalized insights, ask burning questions, and receive guidance tailored to their specific concerns, providing a unique opportunity for direct interaction and clarification.
Who should attend?
Regulatory Affairs Professionals & Management
Quality Professionals and Management
Medical Device Executives
Product Development Engineers and Management
R&D Engineers and Management
Medical Device Security
REGISTER NOW