Greenlight Guru Presents- MDR By The Numbers: Leveraging New Data for Implementation Planning
After the wake of the initial and then the first extension of the MDR deadline, the EU regulatory landscape is still reeling from the new requirements.
Now facing the possibility of another extension, the medical device industry is further confused not only about requirements themselves but also if and when they must comply.
MDR by the numbers now:
8,120: Number of applications

1,990: Number of certificates issued

7,000: Number of certificates that may be issued in total by May 2024

22,793: Number of certificates under MDD set to expire by May 2024

425,000: Number of devices under said MDD certificates that will no longer be available after May 2024 without drastic and immediate action
Register for this free webinar for an in-depth look at MDR implementation by these cold, hard numbers.
You'll learn from regulatory strategist Michelle Lott, Principal and Founder of leanRAQA, as she presents the results of research on recent MDCG guidance, industry and Notified Body surveys, and personal interviews with stakeholders (including Notified Bodies) on first hand experiences with implementation with a goal to bring advice on the process to the forefront.
Register for the webinar: Message from Greenlight Guru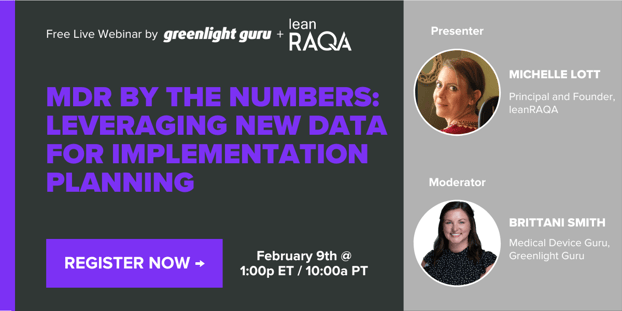 Specifically, this webinar will cover:
Where MDR stands today - an extensive look at published data from competent authorities, notified bodies and industry stakeholders

Review of recently published MCDG guidances

Nuances of the MDR "Extension"

What medical device professionals need to be doing
Who should attend?
Medical Device Professionals, Industry Stakeholders